Achievements are a game mechanic in Stick War: Legacy.
Function
Achievements are rewards that may be earned for various feats. There are 45 achievements in total.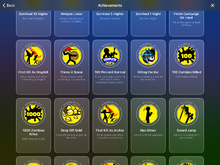 All earned achievements can be viewed in the achievement panel, accessible by tapping the trophy button on the main screen. Earned achievements have a tick on a circle next to it while not earned achievements do not have a tick. There is no prize for finishing an achievement, minus the first three that award gems.
Variants
| Order | Achievement | Condition | Picture |
| --- | --- | --- | --- |
| 1. | Finish Campaign On Normal | Finish the game on normal difficulty. 500 Gem reward! | |
| 2 | Finish Campaign on Hard | Finish the game on hard difficulty. 1000 Gem reward! | |
| 3 | Finish Campaign on Insane | Finish the game on insane difficulty. 1500 Gem reward! | |
| 4 | First Kill As Swordwrath | Kill an enemy unit while controlling a Swordwrath | |
| 5 | First Kill As Archidon | Kill an enemy unit while controlling a Archidon. | |
| 6 | First kill as Spearton | Kill an enemy unit while controlling a Spearton | |
| 7 | First kill as Magikill | Kill an enemy unit while controlling a Magikill. | |
| 8 | First kill as Giant | Kill an enemy unit while controlling a Giant. | |
| 9 | Damage From Behind | Damage a unit from behind. | |
| 10 | Spear Throw | Throw a spear while controlling the Spearton. | |
| 11 | Sword Jump | Perform a Swordwrath jump attack. | |
| 12 | Drop Of Gold | Drop off full bag of gold as the Miner. | |
| 13 | Max Population | Build units to reach the max population limit within the game. | |
| 14 | Full Economy | Build 8 miners to have a full working economy. | |
| 15 | Phalanx | Have 8 Speartons stand together in a formation. | |
| 16 | Archer Clan | Build 12 archers. | |
| 17 | Max Miner | Unlock all Miner upgrades. | |
| 18 | Max Swordwrath | Unlock all Swordwrath upgrades. | |
| 19 | Max Archidon | Unlock all Archidon upgrades. | |
| 20 | Max Spearton | Unlock all Spearton upgrades. | |
| 21 | Max Magikill | Unlock all Magikill upgrades. | |
| 22 | Max Giant | Unlock all Giant upgrades | |
| 23 | Max Statue | Unlock all Statue upgrades | |
| 24 | Dont need no upgrades | Finish campaign without spending a single upgrade point. | |
| 25 | Normal crown | Win Crown Of Inamorta on Normal Difficulty. | |
| 26 | Hard Crown | Win Crown Of Inamorta on Hard Difficulty. | |
| 27 | Insane Crown | Win Crown Of Inamorta on Insane Difficulty. | |
| 28 | Unlock All Avatars | Unlock all Crown of Inamorta avatars | |
| 29 | Unlock Swordwrath Avatar | Unlock Swordwrath Avatar | |
| 30 | Unlock Archidon Avatar | Unlock Archidon avatar within the Crown Of Inamorta. | |
| 31 | Unlock Spearton Avatar | Unlock Spearton avatar within the Crown Of Inamorta. | |
| 32 | Unlock Magikill Avatar | Unlock Magikill avatar within the Crown Of Inamorta | |
| 33 | Unlock Giant Avatar | Unlock Giant avatar within the Crown Of Inamorta | |
| 34 | Survived 1 Night | Survive 1 night | |
| 35 | Survived 5 Nights | Survive 5 nights | |
| 36 | Survived 10 Nights | Survive 10 nights | |
| 37 | Survived 20 nights | Survive 20 nights | |
| 38 | 100 zombies killed | Kill 100 deads | |
| 39 | 1000 zombies killed | Kill 1000 deads | |
| 40 | Killing the Kai | Kill a Dead-Kai while controlling a unit | |
| 41 | Barricade | Construct a barricade in Endless Deads mode. | |
| 42 | Atreyos Lives!  | Atreyos the spearton survives 10 Nights | |
| 43 | 100 Percent Normal | Finish Campaign on Normal difficulty to 100% including all bonus missions | |
| 44 | 100 Percent Hard | Finish Campaign on Hard difficulty to 100% including all bonus missions | |
| 45 | 100 Percent Insane | Finish Campaign on Insane difficulty to 100% including all bonus missions | |