Jurassic World: Dominion Dominates Fandom Wikis - The Loop
Play Sound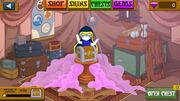 Chests are a game mechanic in Stick War: Legacy. They can be opened to give the Player different power ups such as skins, spells, or gems.
Obtaining
Chests can be obtained from one of the following actions;
Gather 20 stars from completing matches.
Purchase Chests in the 'Gems' tab.
Find a secret Chest stache.
Function
Opened at the 'chest' tab, each chest contains four items; featuring skins, abilities, and a varying amount of gems. These chests are an easy way for the Player to get equipment without needing to purchase any sort of microtransactions in the game itself.
Drop Rate
10 Gems- 19%
Miner Hustle- 13%
Ice Miner- 1%
Ice Swordwrath- 1%
Ice Archidon- 1%
Ice Spearton- 1%
Ice Magikill- 1%
Ice Giant- 1%
Savage Miner- 1%
Savage Swordwrath- 1%
Savage Archidon- 1%
Savage Spearton- 1%
Savage Magikill-1%
Savage Giant- 1%
Summon the Elite- 1%
Summon Griffon the Great- 1%
Lava Miner- 1%
Lava Swordwrath- 1%
Lava Archidon- 1%
Lava Spearton- 1%
Lava Magikill- 1%
Lava Giant- 1%
Vamp Miner- 1%
Vamp Swordwrath- 1%
Vamp Archidon- 1%
Vamp Spearton- 1%
Vamp Magikill- 1%
Vamp Giant- 1%
10 gems 19%
20 gems 10%
Miner Gold Rush 10%
SwordWrath Rage 7%
Archer Rain 5%
Spearton Madness 4%
Leaf Miner- 2%
Leaf Swordwrath- 2%
Leaf Archidon- 2%
Leaf Spearton- 2%
Leaf Magikill- 2%
Leaf Giant- 2%
100 gems 2%
Statue Turret 2%
Golden Spearton 1%
Meric 1%
Undead Miner 1%
Undead Swordwrath 1%
Undead Archidon 1%
Undead Spearton 1%
Undead Magikill 1%
Undead Giant 1%
Notes
In the chest room, there is a reference to the basic elementals (Air, Fire, Water and Earth), there is also a reference to the Treature.
There are three secret Chest staches found in the game (so far):

In the Weekly Missions game mode, go to Mission 45 and tap the Christmas Tree five times. You will be rewarded with 5 free Chests. This can only be done one time.
Also in Weekly Missions, tap the tree just above Mission 100 five times for another 5 Chests. Again, this only works once.
The third stash is found by tapping the Christmas Tree near Mission 145. 5 chests, one use