Jurassic World: Dominion Dominates Fandom Wikis - The Loop
Play Sound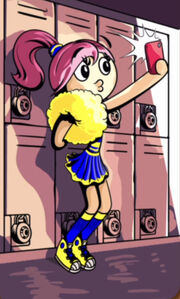 Cyndee is a Crown of Inamorta contestant. She can be your first opponent on the tournament.
Appearance
Cyndee looks like a cheerleader with blue clothes with yellow edges. Her pink hair is tied in a ponytail. She has a obsession with taking selfies.
Description
Cydnee is considered to be one of the easier players, Cydnee often masses Swordwraths, however she also uses Archidons and Speartons.
Dialogues
When entering a match, she says: Lets go team me! It's time to take a selfie!
If she uses a spell, she says: We Will! We will rock you!
If she uses a spell, she can also say: Like totally awesome!
If her statue is at 50% HP, she says: Why aren't my little guys doing anything? ughhhhhh.
If the player's statue is at 50% HP, she says: Don't underestimate the pigtales.
If the player destroys her statue, she says: Oh - like, Whatever.
If she destroys the player's statue, she says: That was like - OMG I cant believe i won.
Notes
Cydnee is one of 12 A.I. challengers in the tournament, meaning they've been designed to go up directly against the Player at one point in the tournament.
She is at the 11th place between the 12 A.I. that are supposed to fight the player.
She uses the Swordwrath's statue in the tournament.
Cydnee's Speartons wear a custom pink color helmet with hearts embedded on it, it also wields a pink, heart shaped shield with hearts embeded on it.