" All is well, I cast a spell!"
The contents of this article are fanon, created by the community of Stick War rather than the original staff involved in the game series. As such, please do not edit the page without the author's permission.
Founded in the July of 2013 by Terrential and Maxchiang, Empire's Throne has grown to be one of the best Clans ever founded in Stick Empires. Engineering formidable players at an exceptional rate, it continues to get more powerful. It is unquestionably the largest and most active clan, and excels at its wars. What are you waiting for? Sign up today.
Throne's Youtube: Youtube.com
Homepage: Empire's Throne
Leaders
Elders
Elites
EvilSkull
Mystery
Advanced
ActiveFirewall
FrictionMarble
Members
AutumnFeels
Chaos
JuggernightRX
ThorSpider
EliteSlayerSwat
Birdman
Bunchfag
Lazar
GPS
LilShadowLord
MystieK
Paperpikmin
Shatterphase
TheCrawler
Yedisekiziki
BarianSeventh
gaismail
Retired
Events
Throne hosted the "Best Order Player Tournement," a 20 man swiss involving the top 4 clans and the SE community. Unfortunately, it was canceled.
They have also hosted many internal tournaments such as Battle For The Throne, King of the Throne and many more.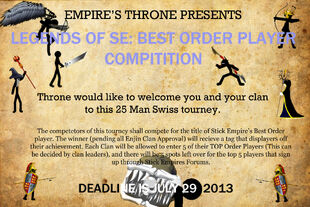 Community content is available under
CC-BY-SA
unless otherwise noted.