"
You fools thought Inamorta belonged to you?
"

– Medusa, Stick Empires
Medusa is a character in Stick War II: Order Empire and later a unit in Stick Empires. She holds the position as the queen and ruler of the Chaos Empire.
Medusa is a powerful spellcaster, best with pick-and-choose abilities and poison spells.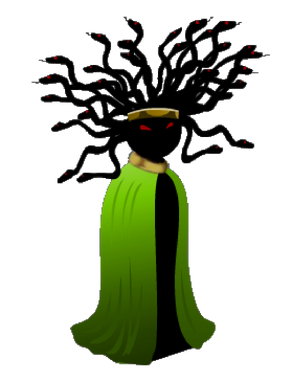 Appearance
Edit
Medusa is a tall black stick figure with an hourglass silhouette, tucked behind a green lavish cloak. Two golden bands hang around Medusa's body, one acting as a neck-collar, and the other as a headband. Atop her scalp are approximately thirty snakes, similar to hair, strewn along in messy fashion.
Other Media Edit
Stick War II: Order Empire Promotional Art Edit
Medusa appears similar to how she does as a unit, though her skin is dark gray now and her cloak is a duller green. Medusa's cloak also has two collar pieces jutting out from the side, unlike her unit version where her shoulders are barren from any additional cloth.