Jurassic World: Dominion Dominates Fandom Wikis - The Loop
Play Sound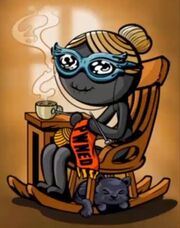 Ruth is contestant in Stick War: Legacy in the Tournament mode. She is often the player's first opponent.
Appearance
She is an old stick figure sitting on a rocking chair with blonde hair and blue glasses. She also has needles and yarn and a grey cat lying down below her.
Battle Skills
She will start with Swordwraths at the beginning of the match for defense. She will then stick with Archidons and Speartons. She will also train Miners until she has a full economy.
Dialouges
When entering a match, she says, "Good luck my dear. I hope you win!"
If she uses a spell, she says, "What does this do?"

She can also say, "Hmmm... i wonder what this does."

If her statue is at 50% HP, she says, "Well that was very enjoyable, i think its time for my nap soon."
If the player's statue is at 50% HP, she says, "You must be going easy on me, you are such a kind soul."
If the player destroys her statue, she says, "Those video games can be so confusing, I think I'll stick to my knitting."
If she destroys the player's statue, she says, "My glasses are a bit dirty but I think it says I won!"
Trivia
Ruth is one of 12 A.I. challengers in the tournament, meaning they've been designed to go up directly against the Player at one point in the tournament.
She is at the 12th place between the 12 A.I. that are supposed to fight the player.
Her Speartons have a clew image on the middle of the shield.
She uses the Archidon's statue in the tournament.