Jurassic World: Dominion Dominates Fandom Wikis - The Loop
Play Sound
Stick War III, is an upcoming multiplayer game in the Stick War series.
Status: Open Beta
An upcoming port of the hit real-time strategy game Stick Empires into IOS and Android.
Brockemon posted an update at the 27th of March, 2019 about it in the #official-news section of the Official Discord Server for the Stick War Series. A screenshot of it can be found on the right. Here's a basic summary of the information there:
They have started early work on it and are confident with a multiplayer engine setup of 40 vs. 40 unit battles with individual unit control.
Individual unit control will be similar to Stick War and Stick War: Legacy's, differentiating from Stick Empires.
They are considering the idea of multiple players on the same team, i.e. 2 vs. 2 matches. They are imagining that the primary player will be in charge of managing the economy and building units. Any additional players would be "side-kicks"; they will be controlling individual units. "Side-kicks" may be rewarded or given a bonus in the game for doing this.
The game will be rendered in 3D, but the sprites for the stickmen will be 2D. This approach is predicted to improve camera effects as you move past the army, otherwise known as the Parallax Effect.
Further Updates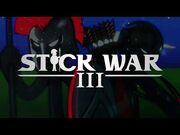 On the 18th of January 2021, CrazyJay uploaded a trailer, showing the new game, he mentioned the games release in 2021.
On the 26th of March 2021, The alpha version of the game was given out for testing.
(put date here) The game was released for the public to play on android in Canada and the for the whole world on IOS