Jurassic World: Dominion Dominates Fandom Wikis - The Loop
Play Sound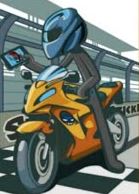 Vin is a Crown of Inamorta contestant.
Appearance
Vin appears to be a motorcycle racer with a blue helmet.
Battle skills
Vin is a medium difficulty contestant and is likely to be your second or third opponent.
He has a distinctive preference for spamming Swordwraths, often spending his early game training nothing else - not even Miners. Even in Deathmatch and Super Deathmatch, he will often train one or two higher-tier units, then spend much of his resources on a horde of Swordwrath. However, unlike later opponents such as Cyrus and Z4CK, he rarely attempts early rushes with them.
Dialogues
When entering a match, he says, "Slow and steady, that's just not my style."
If he uses a spell, he says, "Passing on your right Zoooooom!!"
If his statue is at 50% HP, he says, "Strategy games hurt my brain, I should stick to racing games."
If the player's statue is at 50% HP, he says, "I think you need a pit stop pal."
If the player destroys his statue, he says, "If you're not first you're last."
If he destroys the player's statue, he says, "Come visit me at the Winner's Circle sometimes."
Notes
Vin is one of 12 A.I. challengers in the tournament, meaning they've been designed to go up directly against the Player at one point in the tournament.
He is in 11th place between the 12 A.I. that are supposed to fight the player.
His Spearton shields have an image of a checkered flag.
He uses the Spearton's statue in the tournament.
His dialogue when you win against him its similar to the dialogue of Blake when you start a match with him.