Jurassic World: Dominion Dominates Fandom Wikis - The Loop
Play Sound
"
I can beat this game on Insane mode in 90 minutes without hacks so good luck LOL
"

–Wesley, Stick War: Legacy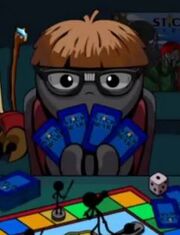 Wesley is a Crown of Inamorta contestant.
Appearance
Wesley is a short stick figure. He wears glasses. He is also shown holding cards and playing a Stick War: Legacy board game.
Description
Wesley can often appear as one of the finalists in the tournament.
He also has a very powerful spell collection, using Archidon Rain, Miner Hustle, Merics and Statue Turrets. These spells may pose a serious threat for the player's chance of success against him.
Dialogues
When entering a match, he says, "I can beat this game on Insane mode in 90 minutes without hacks so good luck LOL
If he uses a spell, he says, "By the power of GreySkull!"
If his statue is at 50% HP, he says, "It seems you are my intellectual superior."
If the player's statue is at 50% HP, he says, "Judge me by my size, do you?"
If the player destroys his statue, he says, "Now for the real fun, I get to analyze and graph the decisions and miscalculations which ultimately led to my untimely demise."
If he destroys the player's statue, he says, "Do or do not, There is no try."
Notes
Wesley is one of 12 A.I. challengers in the tournament, meaning they've been designed to go up directly against the Player at one point in the tournament.
He is 3rd place between the 12 A.I. that are supposed to fight against the player.
He uses the Archidon's statue in the tournament.
He uses the Last Stand's variant of the Lava skin for Spearton and Miner.
During the early release of the Crown of Inamorta, he could use a Golden Spearton.