Jurassic World: Dominion Dominates Fandom Wikis - The Loop
Play Sound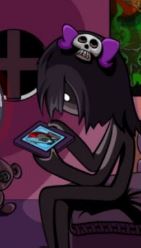 Willow is a Crown of Inamorta contestant in Stick War: Legacy. She is an A.I. opponent of mid-range skill, as she'll usually be defeated somewhere in the middle of the tournament. The Player has a decent chance of encountering Willow during their Crown of Inamorta run.
She's generally more of the gothic "emo" type of person, using dark and grim statements to describe what is really just a round in a mobile game. If she loses, she won't make a big fuss, she says "I could care less," but its easy to tell she's disappointed with the loss.
Description
Willow is one of the middle-of-the-road when it comes to fighting ability. During some of the rounds, she'll mainly start with a Swordwrath for then spamming Archidons and later starting some Speartons to defend the Archidons. She will do more than just the Swordwrath-Archidon combination and throw in some Speartons to change her force up.
Appearance
Willow is a black stick figure with long, black hair and a magenta-colored skull bow.
Dialogues
When entering a match, she says, "Let's just get this over with."
If she uses a spell, she says, "Here's a lame spell."
If her statue is at 50% HP, she says, "This is getting deep man."
If the player's statue is at 50% HP, she says, "It's not looking good."
If the player destroys her statue, she says, "I could care less."
If she destroys the player's statue, she says, "The dark side always wins."
Notes
Willow is one of 12 A.I. challengers in the tournament, meaning they've been designed to go up directly against the Player at one point in the tournament.
She is in 8th place between the 12 A.I. that are supposed to fight the player.
Willow uses a Giant's statue in the tournament.
If you look closely, you can see a Marrowkai poster on her bedroom wall.
She has her Speartons wear a purple skull bow on their shield in a similar style to the one she wears on her head.